Introduction to Personality Development Program
We have three modules that provide overall benefits to the students. Edurefine's personality development program course helps them to organize their thoughts, express their ideas freely, and speak confidently in front of a large audience.
MODULE 1-
Show and tell activity
Creative writing
MODULE 2-
Reading and Spelling
Handwriting
MODULE 3-
Creative Writing & Handwriting
WHAT ARE THE BENEFITS OF LEARNING
MODULES
Following are the three modules in our Personality Development Programme
MODULE 1- SHOW & TELL ACTIVITY (PUBLIC SPEAKING) & CREATIVE WRITING
Your kid might create a blog or speak on an extempore or even he might participate in some debate, for all these activities he needs to be an expert public speaker.
MODULE 2- READING & SPELLING ACTIVITY
It is true that if your child spells well, he can read well. Spelling directly aids in reading. Reading and spelling classes will bring confidence in their studies overall.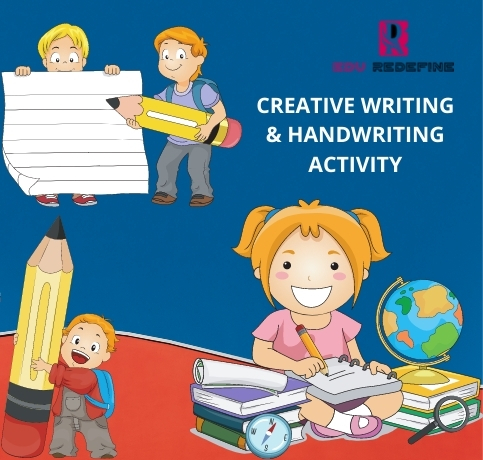 MODULE 3- CREATIVE WRITNG & HANDRWRITING ACTIVITY
Children have a lot of creative ideas, and creating writing can help them in expressing these ideas. \ We provide creative and cursive handwriting practice for overall improvement.
Will the fee for regualr courses depends upon the number of days or number of subjects chosen or both?
Fee will be dependent on the number of days per week for which you choose the classes. You can choose all three subjects or lesser. Fee is independent of subjects you choose. Suggest you to choose at least a day per week for one subject.
What happens if my child is unable to join a session due to some unavoidable reasons?
It can happen. If it is with prior intimation, then our teachers will help the child cope up. If it is a group class then we can try to schedule the class missed according to availability in other batch. For one on one classes, replacement classes will be scheduled by the teacher.
What if he doesn't like the class after I enroll?
You can opt out any time, but the fee is not refundable. So, if you have doubt that your child may not enjoy learning the course, please decide accordingly. We do not prefer child opting out in-between.
How many students will be there in a batch?
A maximum of 6 students per batch. One on one classes are also available.
Will there be a certificate and when?
We will issue a participation certificate after your child attends all classes. We will also hold little champ competitions and award for the kids winning these competitions.
Can I discontinue any time? What is your refund policy?
We take monthly fee in advance. As this is non-refundable if you discontinue, you can discontinue after completion of the month.
What is the session duration?
It's 60 minutes each.
Will there be any tests and assessments?
Regular online tests and assessments will be there safter which score will be shared to parents through email. Practice Worsheets are generally given on weekends so students get time to do them.
Will there be any Parent Teacher Meets for feedback?
Yes, we schedule regular PTMs so parents can be able to talk to teachers to clear any doubts and take feedback of their kids.
What if we have some more requirements and queries?
In case of more queries or in case you want to share more of your requirements, please filee the 'Tell me about your requirements' form. You can connect with us through message or call anytime.
How do we need to pay the Fee?
Once after registeration and demo class is done, if you wish to enroll your kid for the course, you need to pay one month fee in advance through our Fee Payment Page.
If my child misses, say, a weekday class, can I make him to the next weekend class?
We will seek permission from teacher. If the batch is not full, you can. But please minimise such incidences to maintain harmony.
What our Classes provide to your kid?
Why should you choose us?
The best after-school learning for your kid. Your youngster will gain from the best. You need not stress over the coordination of drive, pick and drop, security, and so on Moment question goal, one-on-one consideration, and the choice to choose a group of your kid's comfort.
As a parent, you would need to realize how your kid is getting along. You gain admittance to a dashboard with all the constant information about your kid's learning. You get a more proactive part; there are no curve balls.
You will gain from a youthful gathering of instructors who are handpicked by best teacher; probably the most splendid personalities in the country with demonstrated believability and energy for educating. They will assist you with learning for tests, however forever.
Includes:
-Online face to face live classes.
-Interactive Whiteboard.
-Brainstorming discussions Live with students.
-Regular Notes and Worksheets in PDF/Word format.


Kickstart your kid's learning !
Talk to our expert today and get the best learning program
Let your child get onboarded to the best learning experience. Register for this course now to enroll today !!
Personalized Curriculum. Innovative Learning. Happy Parents.